Home • Calendars and Results:
Did you forget to return your timing chip after the race?
If you came home from the race and found you still have a timing chip that looks like the one shown at right, please contact us immediately.

Timing chips should be placed in a padded envelope and marked "hand stamp" to prevent damage in the mail.

Runners who do not return the chip assigned to them for a race will be charged for its replacement value.
If your chip looks like this one please be kind and return it!
©Copyright FINISH LINE PROS. All rights reserved.



If your chip looks like the one shown below (plain white number label), it is intended for single use only and does not need to be returned. Consider it your souvenir from the race!
MyLaps disposable chip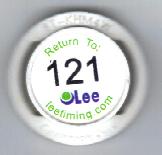 What about disposable chips?

Return timing chips to:
David Lee
112 Riverside Court
Morganton, NC 28655